Read on and find out what's new in the latest version of eZee Absolute cloud PMS. Have a quick glance at the enhancements of the existing features and modules and the addition of new factors in the cloud PMS.
For Chain Properties: Allow Your Users To Switch Between Permitted Properties
This feature has been exclusively added for hotel chain properties using eZee Absolute. Previously, when trying to switch properties, which they were given access to; each user had to log out of the front-office, and select other property from eZee Absolute configuration.
So, why not allow the user to switch between properties easily? Considering this, the front-office now contains an option for the user to switch between permitted promises right from the main window.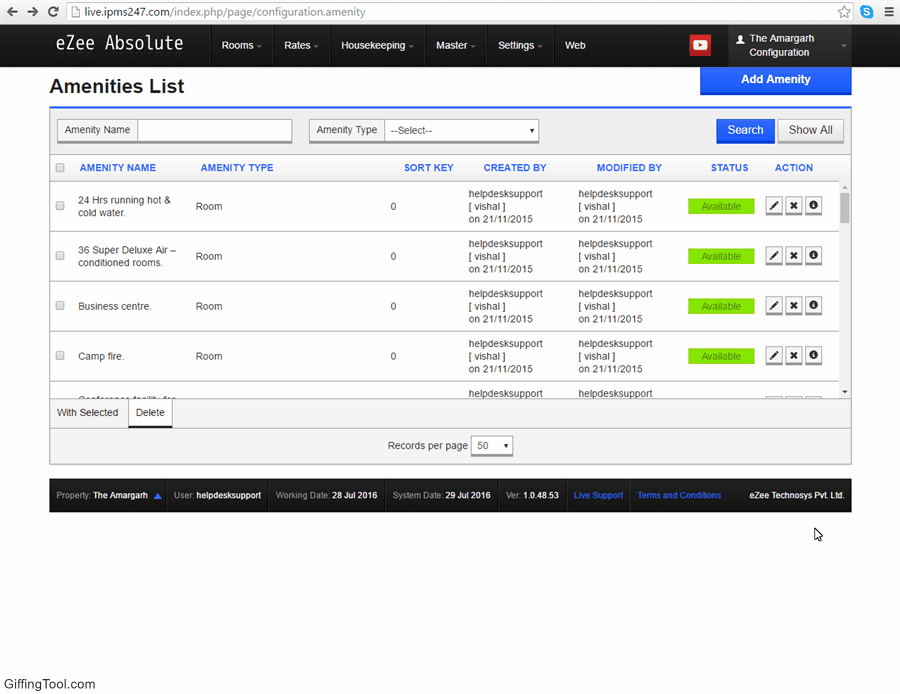 Remain Posted On Housekeeping Remarks
This feature allows you to add any remarks for house-keeping at the time of Day-use, or the arrival of the guest or on check-out. As per configuration, housekeeping remarks will be posted on night audit operations and check-out operations. Thus, when a new day will be created, these posted remarks will be visible on House Status screen in Absolute front-desk.
A New Screen To Settle Pending Folios
In order to remain updated on the pending payments of the canceled or no-show marked or checked out reservations, we have added a new list and a screen which will display a list of unsettled folios of the reservations.
Because of this addition, you will now be able to keep track of the pending accounts of your guests and settle the folios right from the same screen.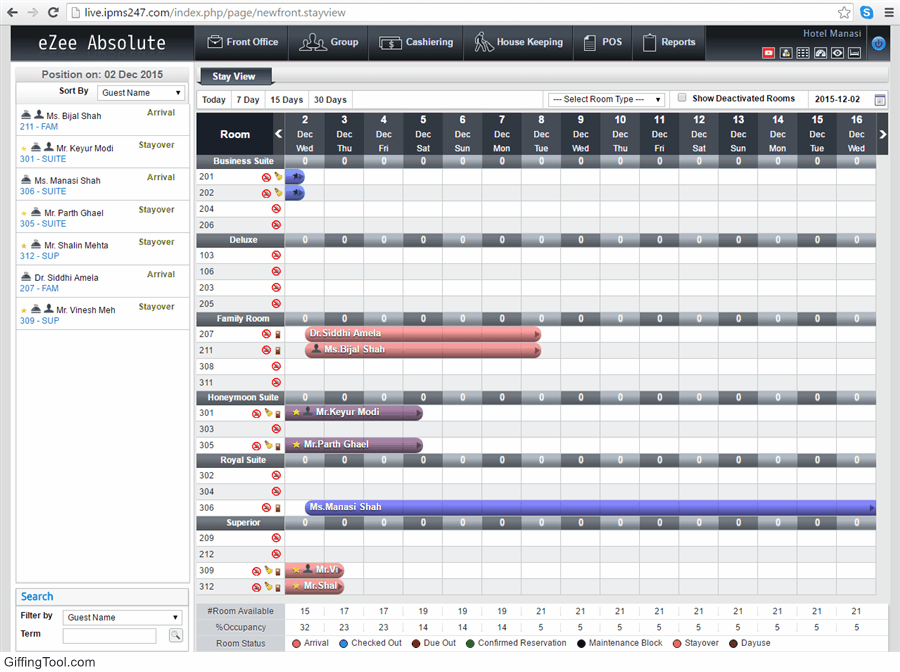 Update Logs: Keeping Track Of Your Rate Updates
Keep track of all rate updates done at your property easily. Any updates done on the room rates will now be visible from one place – Update Logs screen. eZee Absolute will maintain the records of each rate update done in the system along with the details of the update.
These details include user name who performed the update, IP address of the user, audit name, and several other information.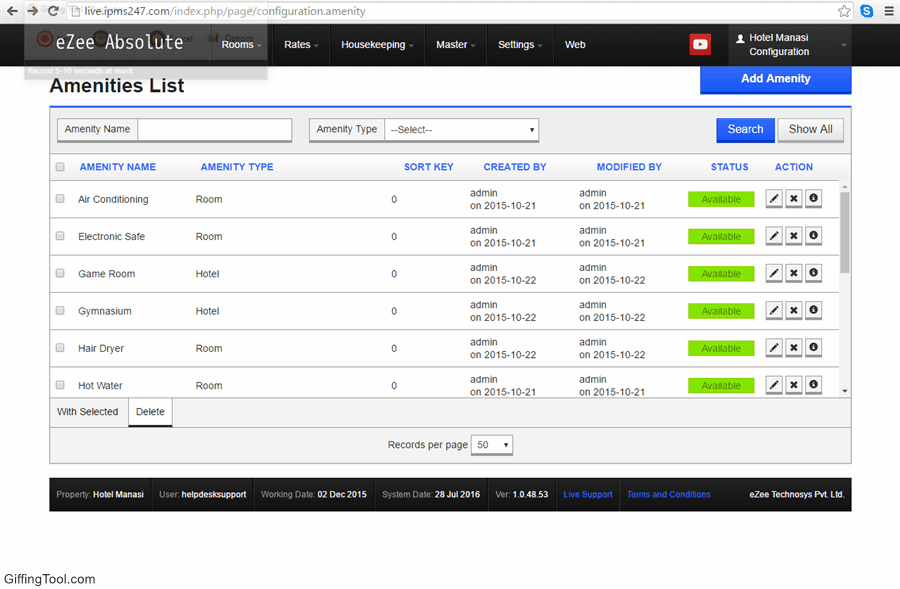 Introducing Suite Concept Feature
This feature is specifically developed for hotels having connected rooms on their properties.
Change the parent connected room to "Room As Suite" and child connected room to "Room As Suite Child" and select a Suite Name to activate this feature. You will be able to utilize this feature in a similar way to the 'Connected Room' feature, thereby helping you make the most of your inventory.
Note: 'Connected Rooms' feature in previous versions has been replaced by this feature.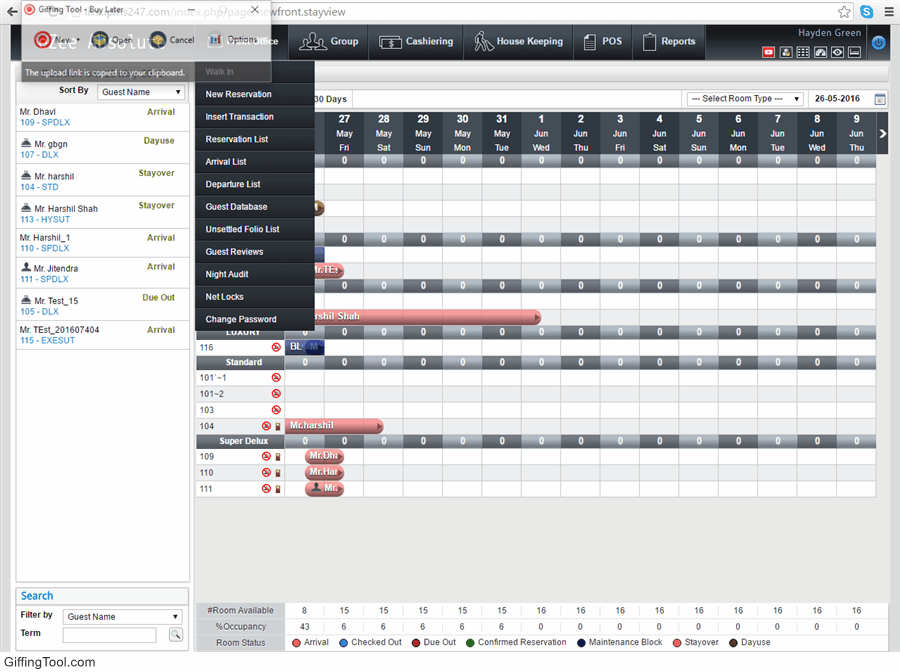 There's more in the latest release:
A new report: 'Statistics – By Room Type' will help you analyze the chart reports as per the different room types configured in your property.
In eZee Absolute configuration, Business Source list will have a display color to classify the bookings arrived from each business source. Additionally, you will be able to 'Reset Color' of the business sources.
Guest Phone No. and Guest Email Address can also be counted as mandatory information while taking a Reservation or Walk-in.
The 'Arrival List Report' will include reservation remarks for you to know about the remarks related to each guest.
In this version, you can utilize voucher no. and invoice no. or voucher date and invoice date to sort the Expense Voucher and Incidental Invoice in descending order.
On any entry change in Edit Transaction Room Charges; system will indicate the audit trials by displaying the date on which the entry was changed.
Exclusively for your Travel Agents, the cashiering center will display a Print Receipt option, helping them print the receipt right from the same window.
You will now be able to filter the Folio List Report according to the business sources.
Enhanced Stay View in eZee Absolute front-office: Created deactivated room representation, provided room type wise filtration and occupancy/available rooms calculation based on room created/disabled date.
Search for your required transactions using 'Guest Email' search criteria.
You will be able to send the invoice to guest using 'Send Invoice to Guest' option while performing Edit Transaction and Search Transaction operations.
Arrival List Report will now include Pick Up and Drop Off date, wherein you will be able to remain updated on the exact transport details of the guest.
In eZee Absolute Configuration, you will now be able to select users from the list who have rights to provide discounts.
You can clear any transport information right from the Edit Transaction window.
We have added 'Task List' report in FrontDesk reports showing tasks according to Task Due date or Task For or Alert or Task Status.
We have provided drop down list to change Reservation Type in Other Information section of Edit Transaction window.
Expense Voucher, Print Invoice and Print Voucher will display a Business Name displayed for owners, travel agents and vendors on POS.
We have added four system defined fields (Room Type, Adult-Child, Total Amount and Balance) in SMS Template Configuration.
Quick FAQs
How to get the new version of cloud PMS?
Since eZee Absolute is a cloud product, you do not have to follow any steps to download and install the new version into your system. Just sit back and relax, and your system will be updated in no time. As soon as the update is out, you will be able to avail new enhancements on the latest version of eZee's cloud PMS.
What will happen to my data after the update?
Your data will remain unchanged after the update. You can begin using the system from where you left off, immediately after the update.
Quick Links
Have any queries or doubts with the system or facing trouble using eZee solutions?
Submit a Ticket Download Release Notes Contact eZee Live Support