Should Internet Access be complimentary at hotels?
April 26, 2016 Mehul Fanawala
If we just step back a little in hospitality history, we will realize there was a time when hotels' telephonic communication hub was a profit center for a fairly long time. From local and long-distance calls to faxes, we have moved on to cellphones, emails and video-calling. The telephone department which was a major profit churning entity became redundant with the introduction of cellular technology. Moving forward to the topic at hand: Free WiFi for hotel guests.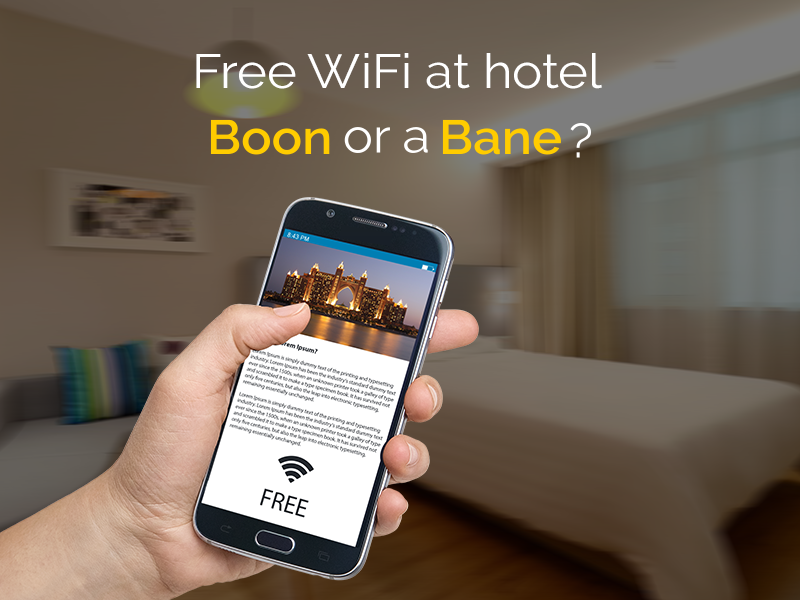 It was initially a chargeable amenity at hotels to cover their own costs but to meet consumer demands, hoteliers and restaurateurs started providing free high-speed internet access
As customers are being offered free access, they wish to do more with their access and as a result, there arises an increase in demand for bandwidth. Guests want to stream videos, conduct video conferences and make VoIP calls. Not only that, on an average each guest is likely to have a minimum of two mobile devices and if there are multiple occupants in a room, the demand for bandwidth will be more.
As customers are being offered free access, they wish to do more with their access and as a result, there arises an increase in demand for bandwidth.
If we take a look at JD Power's "2015 North America hotel guest satisfaction index study", there's an increased incidence of internet access across all hotels and almost 31% of hotel guests experience internet issues.
In years to come, we will probably look back at this moment and have a good laugh about how hotels instead of offering free Wifi for hotel guests, charged for access. What this situation strongly resembles and reminds us of is during the 19th century, when hotels used to charge extra for hot water, but soon it became a necessity that became part of the hotel experience. Some things never change and soon the days of paying for internet access will be history.
There is a consumer strong opinion in favor of making internet access complimentary in hotel and hotels are listening to the needs of the modern day traveler.
Why you should offer Free WiFi for hotel guests
Importance:

Free Wi-Fi for hotel guest remains the most desirable in-room amenity according to a Hotels.com Amenities Survey.  Moreover, guests assign free Wi-Fi more important than privacy. Hence, it is clear how hotel guests are assigning more importance to free internet access over anything else.

Social Media:

Social media is one of the biggest marketing tools that companies can have. But this is not direct social media marketing that we are speaking of. We are talking about a referral form of marketing, experiences shared by your hotel guests. Offering them free Wi-Fi for hotel guest would encourage them to use social media, post pics and provide feedback about their stay in your hotel. They will most likely post updates about their stay at your hotel if you start providing free internet access. Younger people tend to use social media, so by offering free internet, you will only be bringing in more business.
It is clear how there is a strong correlation between access to fast internet and guest satisfaction. This will force hoteliers to continuously invest in higher bandwidth internet and sophisticated equipment for its allocation. The area where hotels seem to struggle is the ever-increasing cost that cannot be offset if the amenity is offered for free.
It was the midscale hotels who started offering free internet to win over customers while upscale hotels were still charging their guests for internet usage and later on introduced tiered pricing, meaning that there will be free Wi-Fi access for all, however, guests can pay a fee to upgrade their bandwidth and get access to faster internet.
The importance of internet has been resonating throughout society now, it has become a necessity like hot water instead of a luxury. So, the question that arises is, how long till every hotel starts offering internet access as a complimentary service?
Do you provide complimentary high-speed internet access to your guests? Let us know, if this feature brought in more guests and raised their satisfaction.
More post