Optimize Hotel Management with 'Just Right' Payment System
March 1, 2017 eZee Editorial Team
"Do you accept credit cards?" 
What is your answer when your guest asks you such a question? If you accept digital payments, you are on safe grounds, Mate! But if, you are cash-only, or not-yet-mobile-payment-friendly, then it is going to be a tough ride for you ahead. Because that guest might not taste your finest food or not stay at your coziest room. Hotel management is out of style for you. Why, just because you do not offer modern payment options.
Cashless! People are going frenzy over this lately.
Cashless payments, cashless transactions, cashless business and cashless nation!
Undeniably, demographic of contemporary consumers shows that, most of the consumers heavily use mobile wallets and plastic cards. To serve such client base- hotels and restaurants must adapt systems or software that offer cashless services.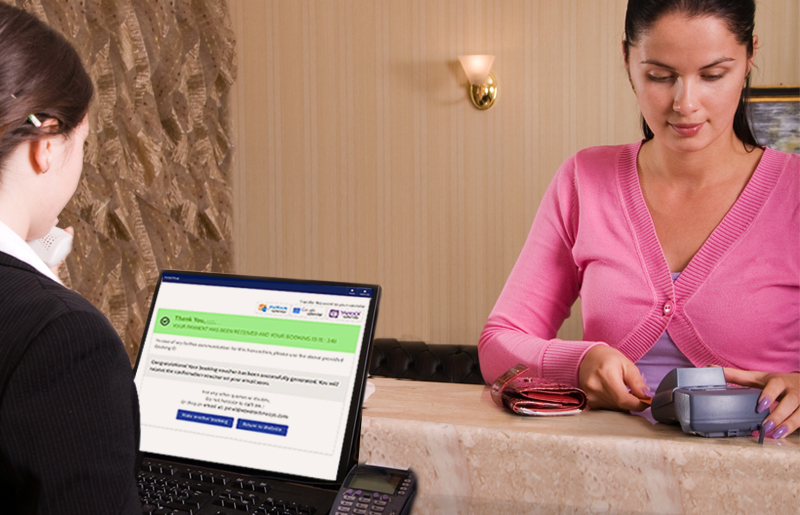 Recently in India, announcement of banknote demonetization set entire nation to a state of hysteria. The unanticipated 'Cash Crunch' made the entire nation look for an alternative of cash and explore cashless payment system. Having said that, it is an irrefutable fact that majority of the sectors are troubled by the drive at a considerable scale. As a part of cash-driven economy, Indians prefer making cash payment. So do the business owners! But with the changing times, the business processes are bound to change.
Showing tangible signs of recovery, Indian businesses and consumers, both are on their way to fight 'Cash Crisis' with technology having their back.
By and large, hotel industry and tourism is one of the fastest growing industries in India and internationally as well. The drive towards going cashless has impacted day-to-day affairs of people; compelling them to put a limit on spending cash money down the drain. Presumably, hotels and restaurants with 'Cash only' mode are at loss of a king's ransom.
Tourism, Hotel industry and F&B are innate components of any country's economy. Hence, although this transition towards cashless country appears unpleasant as of now, it holds positive consequences in longer run.
Hotel and restaurant businesses have no choice but to adapt to this digital evolution. In the end, it will only reward them with quicker and transparent transactions, satisfied millennial clients, and improved services.
So, what happens if your business is still 'Cash-only' or 'Not-ready-for-mobile-pay':
Meanwhile, when ratio of plastic to cash money transactions is at peak and number of 'Saved Cards' has grown by 30%; people in your region too are definitely going for digital payment methods. Or simply this cash crunch would oblige them to use hospitality products that let them use other payment options. Do you think you are ready?
Owing to a fact that higher cash spending is seen at restaurants, both standalone and hotel restaurant might face interim slowdown in revenue if they are not next-gen yet.

People willing to pay with non-cash payments get irritated over inconvenience.

Consumers might buy lesser with cash as compared to higher non-cash purchase.

Loss of prospect guests.

Paperwork and bookkeeping still remains to cause further headache.

Cash money stored basically means your security at risk.
And benefits of going cashless with technology
Optimally improved service and efficiency
Reduced human errors and labor costs
Flexibility in receiving orders and payment for them,
Increased guest satisfaction and loyalty
Eliminated hassles of dealing with manual payment process
Above all, you get to promote a cashless economy.
What is futuristic alternative of accepting cash payments?
Simply install a hotel management software and/or a Restaurant Point Of Sale software that allows you to offer modern payment options.
As technology in hospitality is the new extravaganza, operators implementing hotel management software to manage daily operations at hotels and restaurants are increasing day by day.
Conventionally, technology influences everything from attracting guests to enhancing services, and best thing, it provides myriad of alternatives for accepting cash payment from guests (young generations in particular). Ultimately, this creates a potential for more streamlined, secure and transparent transaction system.
Implement a right payment system, that allows your guests to make payment how and when they want to, while providing a superior experience.
Which software to use? Why?How? This is all you need to read:
In exponentially growing industry, hoteliers and restaurateurs have to stay updated with technology that help stay ahead of pack and grow.
Here we are presenting a collection of must-have and nice-to-have solutions that make hotel management easy as pie and help you optimize and deliver world class services.
A hotel management software: the tech way to serve your guests!
Install a hotel management system that is lightweight, easy to use and automates all your daily operations and offers your guests all the convenience of choice for making payments. Ideally, you need hotel software that allows you to accept payments via cash, credit/debit cards, wallets while not missing those globally popular payment gateways. Besides, accepting digital payments in multiple currencies, if available would be a cherry on cake. Thus, keeping you up-to-date with everything related to payments.
Online Booking Engine: Bookings right from your hotel website
When your guests can book online with you, they must be able to pay online too.
Select a booking engine that allows the bookers to make direct payments, credit card and online banking (net banking too). Besides, best Booking Engine is responsive to work flawlessly for smaller screens, with quick and simple booking process to avoid booking abandonment. Going a step further, using booking engine you can even display rates in different currencies and allow guests to make payment in the currency of their choice.
The Restaurant POS system that you must have at your place
Your restaurant needs a Point-of-sale system, that can speed up service, reduce manual errors, manage all order types, track orders, simplify billing process and all that you need at your restaurant. Importantly, payment should be effortless with multiple payment options of Cash, Debit/Credit Card or Loyalty/Reward Points. Additionally, integration with payment gateways and third party loyalty systems would further facilitate payment process.
Loyalty points
Did you know that you can create your own small transaction system by launching Loyalty and Reward programs? Yes, in such programs you can enable your guests to earn points on various deals at your restaurants. Guests can later on redeem those collected points with you and get discount benefit of your service. This in a way increases influx of guests and engagement too. Isn't it so cool?
Everything summed up
Definitely yes, you need to adopt various cashless modes of payment to save yourselves from loss of business. You need to automate everything to ace hotel management.
However, you don't need to follow others blindly like a sheep. Talk to your guests, observe them and engage with them, ask them what they need; what they prefer most from you. Then and only then, make a decision and move ahead with the 'just right' technology.
More post