ROI on Hotel Technology: Are you measuring it 'The Right Way'?
March 16, 2017 eZee Editorial Team
How does hotel technology benefit you?
Have you ever tried measuring it?
What did you find?
Is the investment worth the returns?
ROI i.e. Return On Investment. We are talking specifically about Returns on Technology Investment. Ideally, when you implement high-end software to get something done, you bear in mind benefits it brings to you. Same goes for hotel software when you install it at your property you expect it to improve efficiency and accuracy of operations, reduce labor costs and a lot more.
Well, this makes complete sense. These days, this bigger-than-ever adoption of hotel technology and tools replaces those manual practices on a big scale. Hotel software is no longer limited to operations optimization, they are influencing guest engagement a big way. Thus, a newer formula to calculate returns is called upon.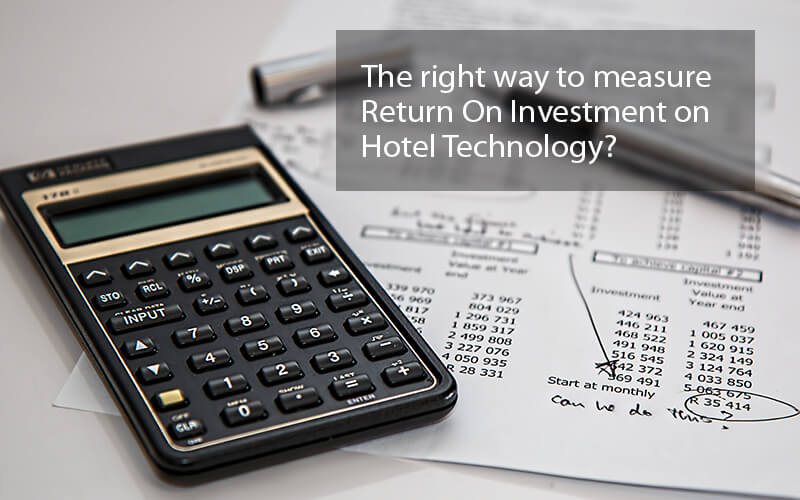 Let me present a brief guide on changing the role of hotel technology and thereby re-defining and measuring tech investment return.
Hotel Technology and ROI: Old school days
Earlier, investing in right hotel software was somewhat an expensive decision a hotelier had to make. A lot of research, going over requirements and needs, financial planning and in the end evaluating solution resulted in software purchase.
After that tech solution would automate and streamline all hotel operations, boost revenue and ensure maximum output from hotel staff. Correspondingly, hotel ROI calculation formula was primarily focused on,
Automated basic operations and Reduced man hours
Freed staff interacting more with guests (Difficult to quantify this. I know!)
Elimination of human errors and losses
And, increase in hotel Revenue (Obviously!)
And, get more done faster with fewer employees.
All in all, conventional formula revolved around measuring cost reduction due to automation by hotel software. "Old ROI Methods Are Holding Back Adoption Of New Technology" cites Andrew Bartels, VP, principal analyst serving CIOs. (Source)
Why those traditional methods of measuring hotel ROI are not working?
The financial models used to calculate return-on-investment (ROI) for tech purchases in hotels show that old formula evaluates capital investment versus customer engagement.
In current times, hotel technology is blending marketing and online presence with the increased guest influx and thereby guest satisfaction. Hence, newer ROI calculation formula must measure these combined efforts. When you have figured it out, you would cross past your others in terms of digital competition.
In this era of on-hand details and enhanced analytics, ultimate benefit is not cost-saving. "Primary business benefit is not doing more work with fewer people. Instead, the main benefit of these new technologies is reducing the probability of bad business outcomes, and increasing probability of good business outcomes," says Andrew. (Source)
ROI with advanced hotel technology: Changing Trends
Latest hotel software has a lot to make it easy for both guests and hoteliers.
Be it smartphones, Mobile Apps, Internet and Social Media, Tablets and Gadgets, not to forget modern traveling tools that give them access to tons of information on a click. Likewise, hoteliers too are armed with cloud-based hotel technology, quicker one-touch operations, faster service and digital settings to be omnipresent in the market.
Therefore, the top objective of hotels inclines to focus more on customer-facing technology, mobile payment, task management tools, flash reports, and all that is needed to provide splendid services to millennials.
Hence, there should be a present-day formula to calculate hotel ROI, right? Because if you try to measure benefits in terms of headcount or operational cost savings, you won't find them, resultantly, you refrain from investing in technology.

The fundamental formula is:
ROI on technology = Net gain on technology / Cost incurred to implement technology.
Therefore, to get positive ROI either you have to focus on both increasing gain and reducing capital cost.
Formula of measuring ROI on technology 'The Right Way'
Guest-facing technology
Term 'guest facing' stretches to the manner in which your services are experienced or seen by your guest. Young generation demands to be dealt with in a high tech way. Hence your need to employ technology that saves THEIR time and delivers services they need. For example, equip them with a mobile guest portal and they can perform the self-check-in/out, fill up details from their smartphones and more. Give them a tablet menu and they can browse through and place the order themselves.
Setting a digital strategy
The overall experience that modern guest perceives at your hotel critically demands the use of the digital mechanism.
Instant online rates and inventory distribution.
Mobile-ready hotel website that takes direct bookings.
Being present on all booking channels your guests might look for you on.
Offering optimum rates to combat competition.
No paperwork, using digital devices such as digital menu, or online feedback system.
Everything in this builds a compelling strategy for you to rock and sets you apart from the rest and as a result boosting ROI.
Data Security
This should be a clear priority for you. Investing for data security provisions in cloud environment not only protects your privacy but also gives you a strong edge against any worst case scenario of data loss. Secured data provides you with anytime backup and easy restore options.
Everyone is going Cloud, are you?
Access anywhere and operate from everywhere is mantra you need in your day to day hotel management. The convenient mechanism, eliminated upfront purchases of hardware and affordable subscription plans are becoming favorite to hoteliers as they are saving a big deal in costs. Easily adaptable features, automatic software updates, minimum downtime, low maintenance, all this is just a beginning of positive ROI.
So next time when you want to upgrade to a more efficient Hotel PMS, do consider cloud-based options.
Get set with new payment modes with technology
Millennials are tech savvy, so you should walk a step advance in order to deliver tech-driven services that please them and make them return to your hotel.
Provision of modern payment options is one such factor they prefer. Online payment, credit/debit card swipe, payment gateway integration and variety of mobile-first payment gives a final punch. Make sure you have these options in your hotel software to ensure you get desired cash flow.
Make the most of Mobile engagement
With maps in their palms, they can find the best place to stay, services they want, where-how-and-why of any location. Your guests are online most of the time, and you are too. You see a cool opportunity to connect with them here?
"Be present on their screens, send them push notifications, connect with them on social media platforms. All-time-best guest retention technique."
Make them feel you want to keep in touch with them. And, if your hotel technology can do it for you, then it is bringing you constant revenue flow. Sounds good in terms of ROI? Of course, it does.
Just a random question, do you offer your guests free Wi-fi at your hotel? How effective it is? Give it a thought.
How easily your guests can find you?
How can you increase revenue and thereby returns with hotel technology?Well, simply make your software bring you bookings. Yes, it can bring you bookings from all over the world. Use software that connects you to channels where your guests can reach you easily. What is the result?
More bookings, higher occupancy rate, higher revenue and you guessed it right! Quick ROI.
In a Nutshell
There is no one-size-fits-all technology. Numbers on paper can only give you the calculation of returns on tech purchase. But real ROI comprises of performance, analysis and informed decision making. ROI is a tool that tells you what is working and what is not. Ultimately, it is your brain that helps you make the decision which makes or breaks your business.
Technology cannot work per se. You have to select right technology and make it work for you.
Watch over market trends from time to time, stay abreast of the latest technology. Stick to what works best for you and deliver what your guests seek from you. I bet you'll be rewarded with all-time high returns on investment.
More post