eZee Absolute version 1.0.47.52 released! Read on to know which modules got updated and which features got revised in this version of PMS.
Upload Guest's Image and Identity Information Image
Recording and saving an image for future references is always a good practice. It saves you from any danger of false identity as well as any other scams. With hoteliers around the world following this practice of having a guest image saved in their system, we have put together such a feature in the recent version of our PMS.
This feature will let you upload a guest image as well as the identity information image of the guest right from the Walk-In, Insert Transaction, Edit Transaction, Edit Group Transaction, Guest Profile and Guest Database screens.
The green colored label besides guest name and identity information will represent that an image is uploaded. Whereas black colored label will indicate that there is no uploaded image for that particular guest.
Thus, you will be able to know each guest's face and verify the identity information from the image.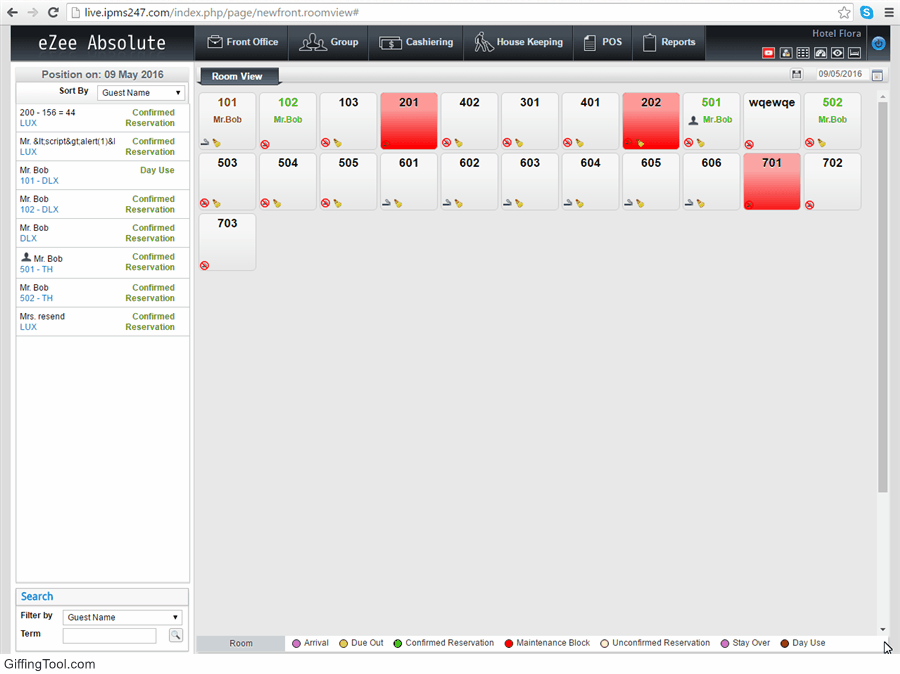 Authenticate Guest Information By Police Enquiry Form
A new provision of Police Inquiry Form has been now included while performing a Walk-In or a Check-in with one default template. This form is to be filled out for each guest staying at your property. It will consist of information like Guest Name, Address, Passport details, Visa Details (in case of foreign guest), arrival and departure details, guest image and some other details.
This form is also accessible from 'Edit Transaction' window in the eZee Absolute front-office.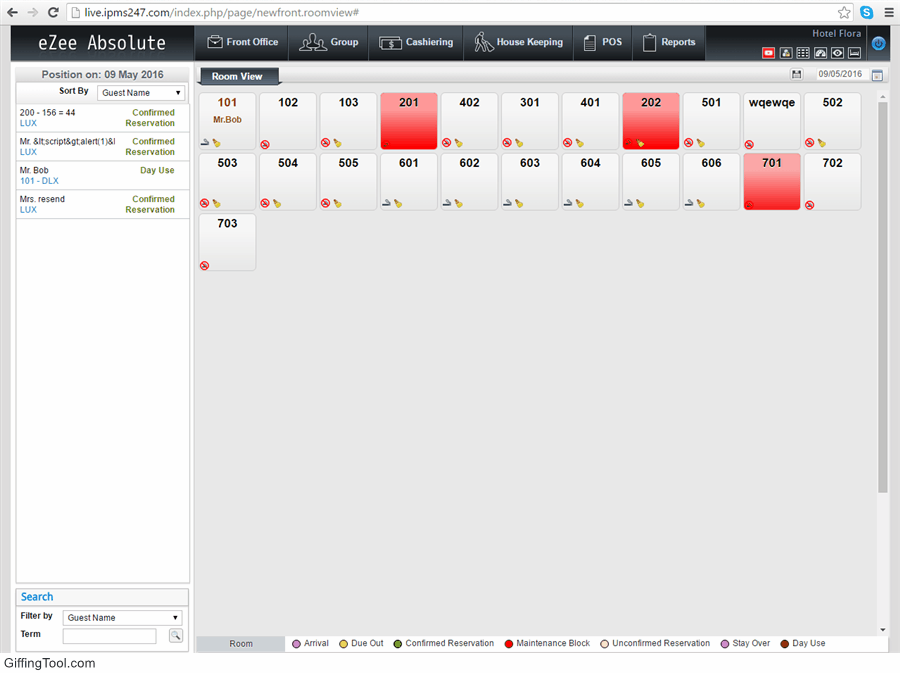 An Addition In Consolidate Reports: Guest Folio List
Developed specially for hoteliers having a chain of properties, the Consolidate Reports section in the PMS has another report 'Guest Folio List' added. This report will display data like Tariff, Room Charges, Extra Charges, and several more information based on the selected arrival date.
This report category gives you the combined report of all guests on all your properties simultaneously, whereas the new report will give you folio details of all the guests on each of your properties.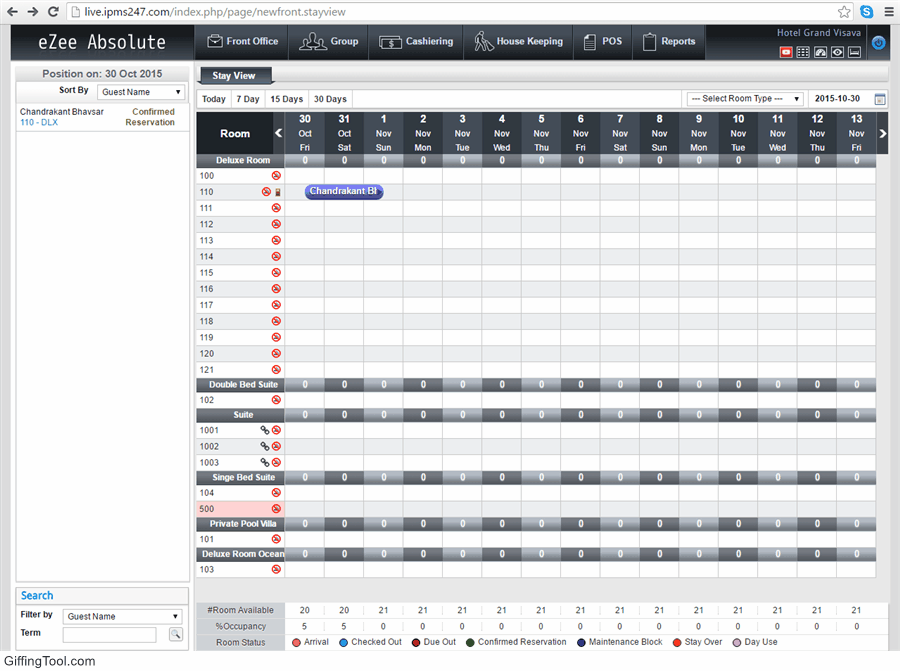 Guest Portal: A Personalized Portal For Guests At Your Hotel
We have introduced a new interface in this version of eZee Absolute – Guest Portal. This portal will pose as a bridge between the PMS and your guest using which your guest will be able to:
Raise a request for any facility or services he requires.
Manage his profile at your hotel.
Review your hotel and services.
Be posted on his booking and stay details.
And many more factors.
Moreover, you will be able to see those requests and act on them. To access this interface, your guest will receive an email with a link to the Guest Portal home page, reservation number and password for logging-in to his account.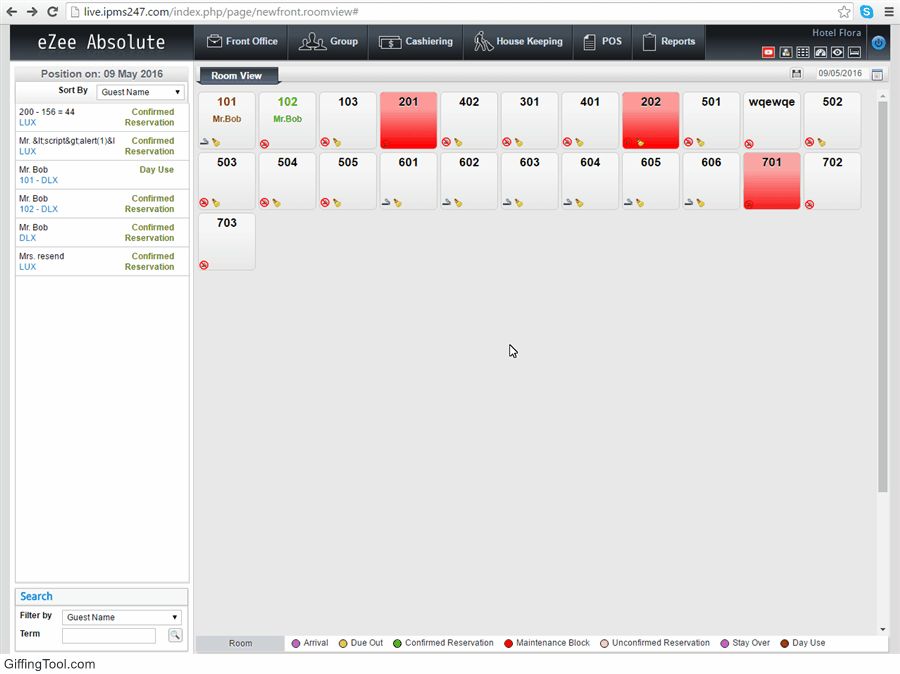 Get All Your Guest Reviews Altogether – Guest Reviews
Guest reviews are a part of a hotel's development process and help them improve their services and hospitality. Additionally, employing the guest reviews is the first step towards ultimate guest satisfaction and building of long-lasting relationships with guests. Helping you analyze the reviews you receive from your guest, from this release onwards, you will be able to view all the reviews on a single screen – Guest Review Screen in eZee Absolute front-office.
In this screen you will be able to see guest reviews and their analysis in the form of charts. These reviews can be availed from the guests by sending them a review link in an email or through Guest Portal section of eZee Absolute.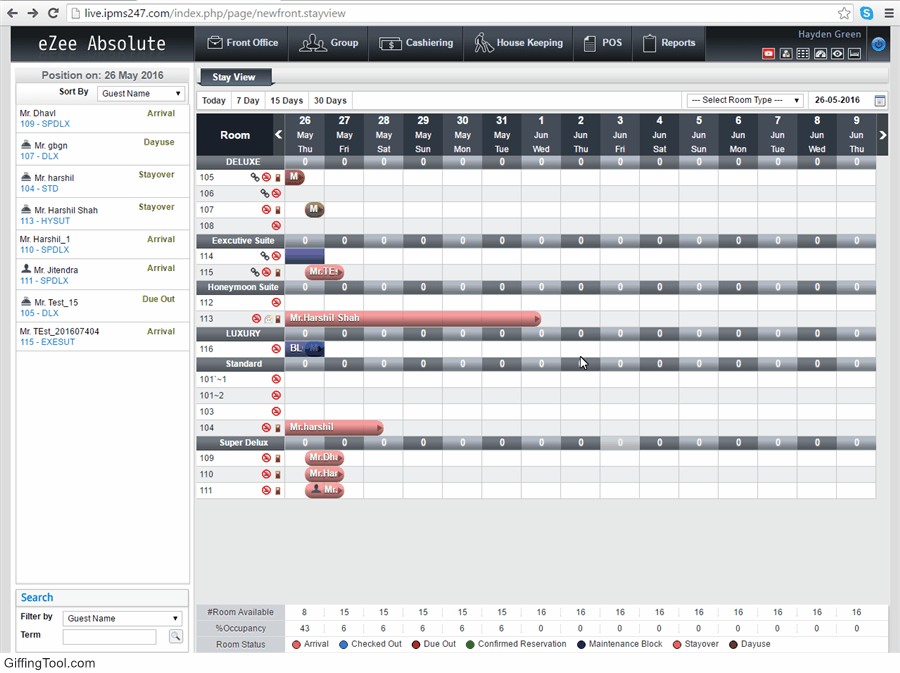 There's more in the latest release:
You'll be able to select the Folio Template using which you want to email Invoice to the guest.
We have provided configuration settings to display Currency Sign and Reservation No. in the folio.
You can now send the Folio Template with Thanks Email to the guest by simply selecting the option while choosing a Folio Template.
The Master Guest Registration Card will contain room sharer information as per your choice.
You can add as well as search for a travel agent using a suggestion list in eZee Absolute front-office.
You'll now be able to export your Folio List report, Daily Receipt-Detail report, Business Analysis Report and Monthly Tax Report in a CSV.
By configuring suitably in eZee Absolute configuration, you can get today's and tomorrow's arrival list in email as HTML which will contain a list of guests arriving at your property.
You can now add Group Payment Receipt as a single receipt instead of individual receipt from Group Payment Distribution screen.
In eZee Absolute front-office, you can search for your required record from Departure List by using "Checked out in Past Date" new search criteria.
eZee Absolute front-office will display "Show Deactivated Rooms" option on Stay View when property has any n number of inactive rooms. In case of no inactive rooms, this option will be hidden to eliminate chances of confusion.
'View Inventory Report', developed for users having a chain of properties, a new addition in Consolidate Reports; will keep you updated with the inventory usage in each of your property.
Group Amend Stay Operation will let you amend stay for the whole group simultaneously, thus saving your time in performing the same operation individually for each individual reservation of a group.
In eZee Absolute configuration, you will be able to send notification emails to multiple email IDs in case of auto room-assignment operation failure from the 'Send To' text box.
Child Age Policy: Now you will be able to configure and charge the rates for extra child as per the child age policy.
Business source variable is now available for use in Email marketing and scheduling feature.
In eZee Absolute front-office, we provided an option to 'Print Reservation Voucher' on Group Reservation screen.
Quick FAQs
How to get the new version of cloud PMS?
Since eZee Absolute is a cloud product, you do not have to follow any steps to download and install the new version into your system. Just sit back and relax, and your system will be updated in no time. As soon as the update is out, you will be able to avail new enhancements on the latest version of eZee's cloud PMS.
What will happen to my data after the update?
Your data will remain unchanged after the update. You can begin using the system from where you left off, immediately after the update.
Quick Links
Have any queries or doubts with the system or facing trouble using eZee solutions?
Submit a Ticket Download Release Notes Contact eZee Live Support