15 Ways to Increase Direct Bookings on Your Hotel Website
November 17, 2017 Viken Patel
Last updated on: 26 August 2019
Any hotelier would wish to drive and increase direct hotel bookings on website, sooner or later. And if already has a hotel website, chances are, he's already doing something or the other to drive bookings there.
But most of the hotels strive to rank above the OTAs in the search engines to get guests to book directly from the hotel's website than OTAs.
This is because even though OTAs bring in bookings, they charge hefty commissions and reduce the chances of future direct booking to nil.
Nearly two-thirds of guests prefer to book direct with hotels.
Reference: Triptease Blog
This calls for having a greater control over the whole booking experience and increase direct hotel bookings on website rather than through some other channel.
Potential guests landing on your official website are ensured of a better and more intimate experience because of high-resolution images, correct information and also the best prices.
That's why, driving direct hotel bookings has been a recent trend in the hotel industry.
After all, it's a matter of ROI. You put in so much efforts to get the hotel website made, and now when the website is not performing or converting well, it's just fair to apply some strategies to raise direct bookings on your hotel website.
Here are some best ways to increase your direct hotel bookings from your website
Let's go through these strategies one by one to give your hotel direct bookings a boost.
1. Have a mobile-friendly hotel website
The first step towards having more direct bookings on your hotel website is to have a mobile-friendly hotel website or to turn it into one if you have it.
Let your website be accessible on all devices, be it laptop or PC, or even tablets. The more accessible or reachable you are, the higher opportunity you have to get direct hotel bookings.
2. Integrate a booking engine to your website
You made your website responsive. Cool! People are coming to your website, browsing it, and want to book with you.
But, there's a DEAD END there!
Why? Because you don't have a booking engine integrated with your website!
You see, having a hotel website is just not enough. You need to integrate it with a good (READ: Attractive and effective) booking engine which will let your visitors book with you from the website itself.
3. Keep attractive CTAs on your website
Your visitor lands on your website. What next? Lead him to your booking engine to book with you.
Keep appealing CTAs on your website, which lead your visitors to the booking engine.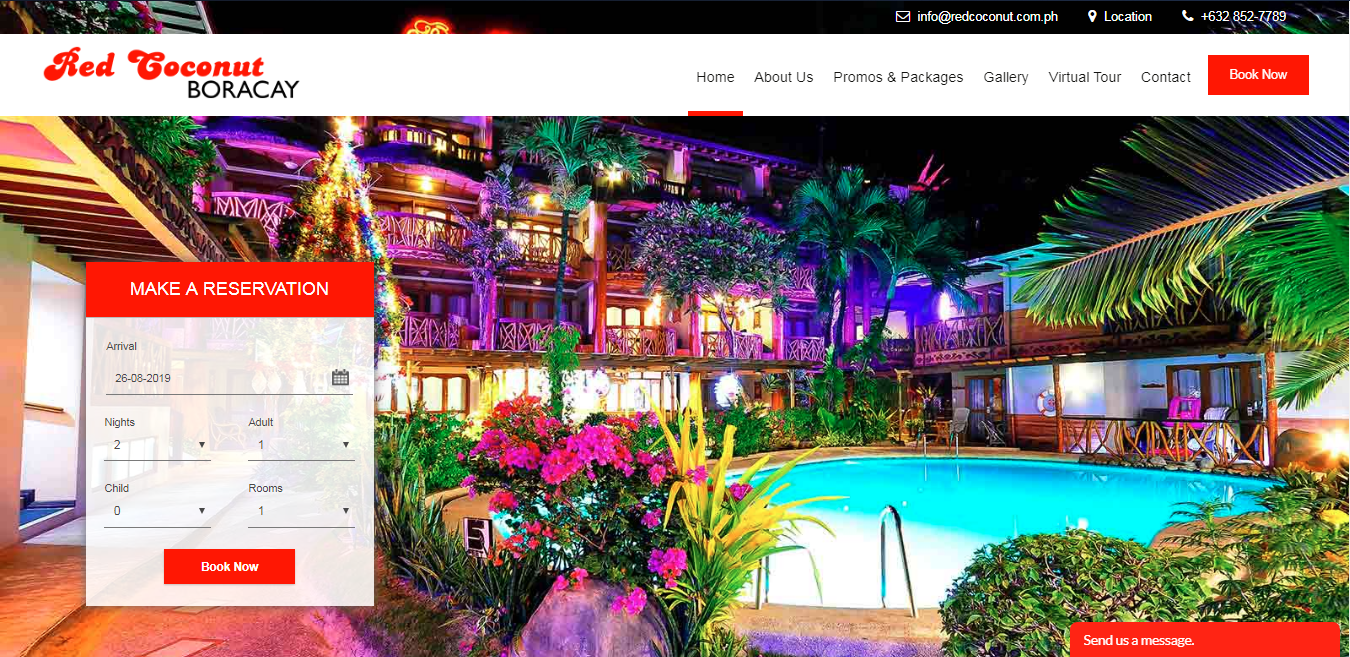 Get a 'Book Now' button or a 'Booking Box' on your website's homepage to let him book with you easily.
4. Get listed and run ads on metasearch engines
Metasearch engines make you more visible in the online market. They will not only help you get higher online bookings but also make your brand well-known globally among the bookers.
Getting listed and running ad campaigns on the metasearch engines like TripAdvisor, Trivago, Google is the smart way to get more direct hotel bookings to your website. (To enroll for Google Hotel Ads – it is advisable to choose an authorized integrated partner)

5. Perform hotel website SEO to rank on Google
Nowadays, bookers always search on the search engines like Google, Yahoo, Bing, and so on to book hotel rooms.
SEO is the search engine optimization that is used to rank your hotel website on these search engines for more quality and quantity traffic.
SEO service includes; building links from relevant sites, optimizing page content with keywords, and more. (Read all about hotel SEO in detail – here)
6. Speed up your website load time
Aside from creating a hotel website, it is important to increase and maintain its loading speed. Nobody likes a website that keeps loading for even 10 seconds.
A slight delay can let bookers leave and switch to your competitors' site which will ultimately fracture your conversion rates.
Hence, boost your hotel website's loading speed to give a flawless experience to your visitors while booking with you.
7. Highlight social proofs for your website visitors
Nowadays, every single booker looks for hotel ratings, testimonials, case study, or the statistics like how many people booked hotel rooms today, from which location, which room got the highest bookings, and all.
By highlighting these kinds of social proof on the website will encourage visitors to book a hotel room directly from your website itself.

8. Use widgets and encourage guests to book directly
Engaging your visitors at every stage (whenever they land, browse, and are about to leave your website) can maximize the chances to convert looker into a booker.
You can influence visitors to engage with you by displaying the holiday packages, offers, new services, discounts and more, to push them to reach your booking engine page.
With the help of ready plug and play widgets, you can notify your looker that can help you convert them and become a long-term guest.

9. Let visitors compare hotel and OTA's rates on the website
Before booking a hotel room, visitors visit the website and other multiple OTAs for price comparison. Due to this, most of the bookers may book their room either through the website or OTAs.
Although, with the help of a price widget, you can give the comparison of the hotel rates with the OTA's rates on the website itself which will increase direct bookings for your hotel.

10. Implement a chatbot/live chat to attend guest inquiries
When visitors land on the hotel website and browse, they come up with few questions. However, if they don't get any reply within a few minutes, bookers switch to your competitors or go to OTAs.
The chatbot or live chatbot is the best way to provide an instant reply to your customers, answer all their questions, and convert them with all the satisfaction directly with the smart hotel website chatbot. Some booking engines come with an integrated chatbot.

11. Showcase reviews on your website
Reviews pose as a key factor to help one zero in on the final decision. So, when your visitor is checking out your competitors for his stay, show him different reviews of your guests telling about their stay with you.
Or notify your visitor about the number of bookings made at your hotel today; thus giving them an assurance that your hotel is well known and accepted.
12. Let guests book from social media
With the rapid and unstoppable march of social media, hotel marketing has grown by leaps and bounds. Hence, marketing through social media-based channels is an excellent tool for dominating search results and to drive social media traffic to your hotel website.
Set up your profile on social media, especially Facebook, integrate your booking engine with your Facebook page and let your fans book with you from the Facebook page itself.
13. Highlight all the information on website homepage
When a visitor lands on your website, the first page he visits is your homepage. Therefore, it is important to highlight your unique selling services and all the required information about your hotel on the homepage to encourage them to go through all services in detail.
The more your visitor knows about the hotel and other unique services, the higher the chance of a conversion.

14. Make the most of email marketing
When happy customers leave your hotel, it's not the end of the service. Keep in touch by sending special offers to happy customers on important occasions like festivals, long weekends, their birthdays and anniversaries.
Incentivize them with special discounts to book online. Ask them to subscribe to your newsletter, and send them compelling newsletters from time to time and make them think about returning to your hotel.
15. Run ads to make visitors book directly
Your marketing strategy is different for every type of audience. For example; you're looking to – attract new bookers, visitors who landed on your website once, or bookers that frequently visit OTAs to book a hotel room.
For this, you can run different types of online ads to make them book directly through your website to increase both brand awareness and revenue of your hotel.
Bonus: Run loyalty programs for your guests
Generally, hotels create no significant marketing strategy to bring guests back to the hotel. However, hotels should strive to earn loyal customers who booked through OTAs by providing superior guest experience and running loyalty programs that will help you compete against OTAs and earn more repeat guests as well.
It'll not only help you with acquiring customers but also save the huge commission.

---
So these were some of the best and effective ways to increase direct bookings on your hotel website.
OTAs are able to drive bookings for millions of hotels worldwide due to their strong digital marketing play. You too can do that for your hotel.
Just take a step forward and start implementing hotel direct booking strategies as mentioned above and save thousands of dollars on OTA commissions.
If you'd like to know more about any of these strategies in detail, or have any more to share, or have any confusions while implementing these, do drop a comment below. I'll be happy to help!

More post