Social Media Marketing for hotels sorted in 9 simple steps
February 22, 2019 Lopa
Imagine a life without social media! Well, that's really hard to even imagine.
As soon as we wake up, our first instinct is to check our mobile phones, get the updates of the world, family, friends and a plethora of different odds and ends!

Needless to say, today social media has become an inseparable part of our lives.

Having an immense number of users, social media gives businesses ample opportunities to interact with their audience and promote their business.
Over and above, when our hospitality industry has interactions and communications at its center; in that case, social media marketing for hotels is an assured way to enhance online presence.
And as giant the social media world is, it gives equally immense opportunities for hotel promotions. And that has made me pave, the simplest way for social media marketing for hotels.

Let's go through each step to take your hotel social media to a whole new level.

1. Know your customers
Facts first,
68% of the guests are usually millennials.
And they belong to that savvy group that won't select a hotel for their stay without a "social proof" on different social media platforms.
For this reason, your credibility on social media plays an important role in your guest's purchase decision. Basically, by carrying out your hotel's social media marketing, you get a chance to convince your guests even before they visit your hotel.
First and foremost, before implementing any of the social media marketing strategies for your hotel, you should get fully acquainted with your audience.
Now, the type of your audience certainly depends on the services you're providing at your hotel AND of course, your hotel location.

To find more about your audience type, dig out some past data and find out which type of guests do you welcome more at your hotel? Are they couples and millennial travelers or corporate, families and groups?
On the other hand, your target audience counts as well. Let's say, at present, you are welcoming families and groups, but you want to target corporate! You may definitely need to bring some changes in your hotel marketing.
Here are some fresh hotel promotion ideas in that case.
So you have to find out all these data, define a precise database of your audience and then strategize your social media marketing for your hotel accordingly.

2. Facebook
Well, we don't really need to mention the popularity of this mass media platform. Being the most accessed social media platform, it gives you a bunch of opportunities for advertising your hotel.
That goes without saying, Facebook marketing is indeed an inevitable social media marketing approach for your hotel.
Business Profile
First things first, create a business profile of your hotel. Make sure you add the required details and COMPLETE your profile.
Did you know, you can get direct bookings from Facebook by integrating your hotel website with a smart booking engine?
Then comes your cover photo: Cover Photo and profile picture are a part of your business profile (…yet, most of the businesses don't consider it important!)
Some hoteliers neglect this factor, but it actually has a significant impact on your Facebook followers. An amazing cover photo as shown below can catch the eyes of your many followers!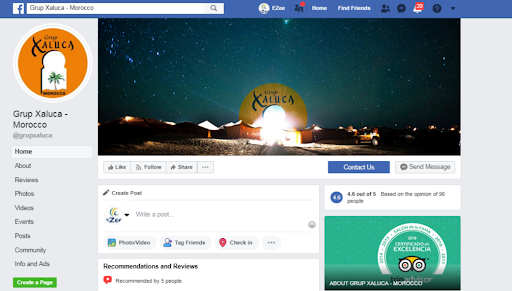 After having your profile built to the Tee, the very next question that comes is:

As a hotel, what should I post on Facebook?
Facebook is the best medium to share your content as it has no barrier of word limits, link, or video size. Following are some types of posts that you can do:
Different eye-catching hotel photos. Not only that, you can utilize your nearby scenic destination photographs to captivate more followers.
Short videos.
Special offers, promotions and deals
But naturally, only posting is not sufficient right? The next important key aspect is engagement.

How can I increase engagement on my hotel Facebook page?
Here are a few ways through which your Facebook page can acquire higher engagement.
Encourage your guests to use check-ins or location tags on photos and videos. In return, you can offer some attractive rewards.
As things stand now, live videos have the highest engagement.
With Facebook, you can run interesting contests as well. For example:
Win a 2D/3N couple package at Royal Beach Resort. Get a chance to enjoy the luxury by following three simple steps:
Like our page
Like this post
Tag your three friends.
W
(Trust me this works like wonders! It increases engagement on your posts and will attract a pretty good number of guests.)
3. Instagram
As everyone knows, Instagram is the platform that is primarily known for pictures and video sharing. Moreover, Instagram is the fastest growing media platform currently, with 800 million active users.
Plus, millennials are the biggest consumer group of this platform. 97% of them use social media to share pictures of their trips.
And just to remind you, the human brain processes images 60K times faster than text.

Let's proceed toward how to bring the best out of this most cherished social media for your hotel.
Instagram Business Profile
Similar to Facebook, create an Instagram business profile of your hotel. Make sure you include all the required data in your business profile.
(IMPORTANT: Do not miss out on adding your hotel website link in the bio!)

As a hotel, what should I post on Instagram?
Since the platform is particularly for pictures and videos, consider posting high resolution and interesting pictures of your hotel or hotel's services and amenities.

Naturally, the users desire to see the content that interests them, don't they? It's not really a tough cookie! You see, travelers (and Instagram users) tend to like visually appealing posts of food and travel images. In that way, you can share travel tips, images of your surroundings, and local food tips.

Hashtags
Posting without hashtags on Instagram is equivalent to not posting (Yes, that's absolutely true!)
In fact, images with hashtags see 12.6% more engagement.
In order to have more engagement, you need to first research the relevant and popular hashtags.
And you know what, there are many tricks in adding these hashtags too! Let me share you the evergreen one. In case you are not aware there are two types of hashtags:
Super-popular– #Instalike #followforfollow #igers and likewise
Less popular- #hotels #luxuryhotels and likewise
My secret source says that it's important that you use both popular and less popular hashtags. Reason being, by using less popular hashtags, you can easily rank high and get found by targeted users and on the other hand, by using the most popular hashtags you can increase the impressions on your posts.
Tip#2: Including a location will help as well.  Posts see 79% more engagement when a location is set. Plus, that helps travelers find your hotel when they look for images of your location.
Give a try to these tips and enjoy the surprises these hashtags bring for you!
How can I increase engagement on Instagram?
When it comes to increasing the engagement nothing can beat the stories and live videos. Let's get ahead!

Instagram Stories
With Instagram Stories, you can click the special moments of your day, or share any quick updates about your hotel. These stories vanish after 24 hours. This is the primary reason why stories engage a lot with Instagrammers (aka igers!)

You must be wondering that apart from posting regular content, adding stories would take a toll on you. Well, that's not the case.

Let me tell you why these stories don't need to be perfect as your posts. These stories are just meant to give a glimpse of what is going on in your business. Here are some examples that might be helpful to you in adding your stories.

Discounts and ongoing deals and offers
Some important announcements
A sneak peek into your work (a.k.a hotel) life
Running a poll for customer feedback
Asking questions
Behind-the-scenes pictures and videos of your hotel (#BTS)
#TagforTag
Create a specific hashtag just for your hotel brand! And include them in all your posts (just like we have it for #eZeeTech).
Ask your guests to tag your page in their photos during their stay, add your locations and even add the hashtags. In return, you should also like those images, respond to their comments and keep the engagement consistent.

BONUS TIP#: You can also re-post the different posts of your guests using the Repost app. You can find this app on PlayStore and AppStore.
Here's a blog that unveils the whole ball of wax of Instagram marketing for hotels.
4. Twitter
To be honest, Twitter is actually a less prominent social media platform among the hospitality industry. However, the pace at which it's popularity is growing, it would be a major miss if you don't include it as one of the social media marketing for your hotel!

At present,
261 million are using Twitter worldwide. 
If done correctly, it can actually bring you potential guests and can also drive maximum traffic for your hotel website.

Twitter does come with the limitation of characters. And you would definitely agree that marketing or promoting your hotel in just 140 characters is very difficult.

However, in contrast to this – the character limit urges the millennial guest to use it more. They use it frequently for quick updates, instant feedback of the hotel service, their trip experiences and such likes.
In a nutshell, Twitter is fleet-footed and chatty!
As a hotel, what should I tweet on Twitter?
You can tweet about your special deals, offers or recent updates. Using Twitter is really a no-brainer thing. Let me give you a few examples:

Royal Beach Resort is happy to announce 30% off on all the bookings from 6 March to 10 March celebrating the Women's day. Use code WOM30

The Royal Beach is all in the spree to welcome Xx influencer on 18th March. Book your room if you want to meet this youth sensation.
How can I increase engagement on Twitter?
When it comes to responding, hotels generally lack to give a timely response (Agree?) Be it your online reviews, your comments on Facebook, tags or re-posts on Instagram or even Mentions on Twitter.

Do not miss out to respond to anyone who has mentioned your hotel page. Even if it is a good comment or a bad one. (If it's a bad one, then you have to treat it with utmost priority.) Walk an extra mile to apologize and reassure the guest of your high standards.

Twitter allows you to closely follow all the chattering going around within your audience. So keep an eye on those chats and take the optimum advantage from it.
For example: If any traveler has posted a bad experience about the hotel in your region, you can suggest your hotel replying to their tweet.

Happy Tweeting!
5. Pinterest
Pinterest is one of those social media platforms that has been received less recognition but has been a salient player all along.

In case if you aren't aware, Pinterest is a visual platform for picture sharing. But when you use Pinterest, it's PINS, not images or picture (Be careful!) When you upload an image (oops, Sorry a PIN) you can add a link to that pin.
And also you can link all the posts to a specific location. So, let's say if your hotel uploads a photo of your property and 100 people re-pin it, all 100 pins will still link back to your website.

Pinterest Page
Set up an excellent Pinterest page of your hotel.

Boards
The pins are organized on the boards. Pinterest is all stacked with these boards. DIY, Quotes, Fashion are some of the most popular boards. Basically, these boards are like your personal categories, using which you can classify your pins. Generally the Pinterest users follow the specific boards or just your profile.
You can post your picture, with content and link to your website by listing in some trending boards. Or you can also create your own board. Few examples of the boards that you can create are:
Boutique hotels
Traveler tips
Food and drinks
Scenic destinations and likewise
As a hotel, what should I post on Pinterest?
Showcase your hotel's best features viz your rooms, the amenities, etc. Post photos of everything that makes your local area unique, right from the scenic destinations, beaches, walking tracks, mountain views to restaurants. Highlight what people can do near your hotel. (Tip: Create a separate pinboard for family activities.)
If your hotel has a restaurant, showcase some attractive images of your toothsome delicacies (#foodporn). If you don't have a restaurant, post photos of local cafés, food or recipes.
If you can invest time, try giving some helpful advice or information. Maybe some handy tips that inspire the traveler who is thinking of traveling to somewhere.
6. YouTube
At present Youtube draws 1-8 billion viewers to its platforms. And why not? As the videos have the highest engagement than the images and textual content (You will definitely agree to me here).
To tell you the truth, videos on Youtube have a huge impact than television advertising (Yes. It does have!)
That being the case, Youtube marketing for your hotel can get you significant traffic as well as potential guests. Besides the 'in-motion' videos of your hotel are more likely to impel the guests than the still pictures.

As a hotel, what type of videos should I publish?

A video tour of your hotel with all your amenities and services. Including such videos will excite your visitors to experience the stay at your hotel.
The video testimonials of your guests.
You can also shoot the video of nearby destinations such as time-lapse video of sunrise till sunset.
Now you must be wondering how to manage shooting the video and the investments surrounding it?

Well, you can hire a freelancer to shoot and develop the videos. This will be one time investment with a consistent return.

The investment in developing the videos will be of one time, with consistent outcome.

Do you think publishing the videos will work? If the visitor searches for – "the best hotel in India", how likely it is for your video to rank on the first page?

Let's dig a bit deeper!

After publishing, your next goal is to rank those videos on Google. For that, you have to be very precise in adding a title to your videos. Use Google Keyword Planner to determine how you should title videos.
Enrich your tile by adding some additional tags such as the city and state, along with your brand name, street and zip code.

Make your video descriptions as detailed as possible. The description should also include links to your website and social media channels, along with a phone number to call directly. Reply to comments left by customers as necessary, particularly negative ones.

7. Influencers
The core idea behind influencer marketing for hotels is nothing but the "Word of mouth".

Who are influencers?
An influencer is an individual who has the power to affect the purchase decisions of others because of his/her authority, knowledge, position or relationship with his/her audience. They have built a reputation for their knowledge and expertise on a particular topic.
They make regular posts about that topic on their preferred social media channels and generate large followings of enthusiastic engaged people who pay close attention to their views.

Influencer marketing for hotels including reaching out to the influencers that are related to the travel and hospitality industry.

How to do influencer marketing for my hotel?
Initially, research about some of the famous influencers in your region and even in your industry. Try connecting with them, convince them to promote your hotel and in return offer them some attractive deals and offers (Doing this in weak seasons can really benefit you!)

Take maximum photos and videos when your influencer is staying at your hotel.
Devise a thorough marketing plan once you have confirmed any influencer. This plan should include pre-marketing and post-marketing ideas too.
Later on, use it thoroughly in your social media posts.

8. TripAdvisor
TripAdvisor is a giant travel website (Don't you think so? Anyway let the numbers do the talking).
1. The site reaches approximately 455 million unique visitors every month.

2. TripAdvisor users have contributed over 702 million reviews and opinions covering, on an average 7.5 million accommodations, restaurants, and attractions.

3. About 230 new contributions are posted every minute.

Source
Today it is used to a great extent by travelers to determine where to go, who to stay with, what sites to visit. If your presence is NOT on this mega travel website, then there are rare chances of you being selected by the travelers.
Tripadvisor marketing
Every hotel can write its description, the amenities offered, and everything that makes it unique. Do that with great pictures.

Figure out which category is suitable for you in two ways. 1. As per accommodation type viz B&Bs, boutique hotels, resorts and such likes 2. As per the audience or your services viz best value, romantic, family-friendly, business accommodating or luxurious.

TripAdvisor Reviews
The number of reviews on your TripAdvisor account is directly proportional to the bookings you are going to receive. In simple words,

More reviews = More bookings = More revenue.

TripAdvisor bestows hoteliers with the two surefire medium to grab more reviews in their bag.

1. TripAdvisor Review Express Program
TripAdvisor is running a TripAdvisor Review Express Program, which helps hotels collect more reviews on TripAdvisor for free. In this program, TripAdvisor approaches your recently checked-out guests to leave a review for your hotel. However, you can only enroll in this program if your hotel technology provider is a TripAdvisor Connectivity Partner.

New to this TripAdvisor Review Express Program? Don't worry, get all your doubts clear by watching this video.
2. TripAdvisor Traveler Reviews app
You can add the very interesting TripAdvisor Traveler Reviews App to your hotel's Facebook business page (which is free). By adding this app, your guests will be able to give you reviews on your Facebook page. Hence providing your guests with a straightforward way to leave a review.

Bonus: Key Points
So, by now you are fully familiar with the entirety of how to carry out social media marketing for your hotel. Right?

But what next?

Only knowing the strategies is not important. Their execution holds supreme significance.

So here are some of the key points that are to be taken into consideration for the long-term and fruitful benefits of these social media strategies.

1. Define some strong Goals
Now, here I'd like to ask you a question. Why do you want to start this social media marketing for your hotel?

Definitely, you must have some some solid reason to do so. But my point is – convert that answer or reason into your GOAL.

Practicing these strategies randomly might not give you desired results. In order to achieve the desired results, you should set a goal.
If you are new to social media marketing, your initial goal can be – Increase your followers to 10k and if you are an old player, then your goal can be like – Increase the lead conversion ratio through these social media platforms.

2. Interlink your social media pages
Interlinking your different social media platforms is really important. This will help you to have a balanced audience and traffic. Most importantly, the main logo and the link of the hotel website of your property should be the same and should be added in every social media handle.
You should also see if all the corporate information is listed correctly on each and every social media platform.

3. The consistency of the social posts
Now it is not necessary that you have to post every day. But the frequency at which you are posting should be constant. Let's say if you are posting every alternate day, then it should remain consistent throughout.
It's okay to miss sometimes but don't let that turn into a habit (Because we're experts at procrastinating!)

4. Take Advantage of Paid Advertising
Most of the social media platforms are offering paid ads. You can get a considerable budget and try advertising on different social media platforms.
Here, I wrap up my tips on managing your hotel social media. We're sure all these strategies will surely help you devise social media marketing for your hotel is a much better way.
If done correctly and with proper planning, these social media platforms can become your revenue generating platforms in no time.

More post