[Case Study] How eZee helped 1000s of hotels overcome their challenges through FREE hotel performance reports
July 2, 2019 eZee Editorial Team
Since always, businesses have been asking a frequent question, if not anything else. How to reach their target audience? And the question which comes following this is: How to do that without burning a fortune?

We were in a similar fix sometime ago. Reaching out to a vast number of hotels seemed tough. But you see, extraordinary ideas have a tendency to knock on your door at the most unexpected moment. And it's when none of your conventional ideas work, an extraordinary approach works wonders.

To tell a long story short, we helped thousands of hoteliers overcome their business challenges by sharing free-of-cost hotel performance reports with improvement advice. Because of this, hotels were able to re-define their strategies and grow their business.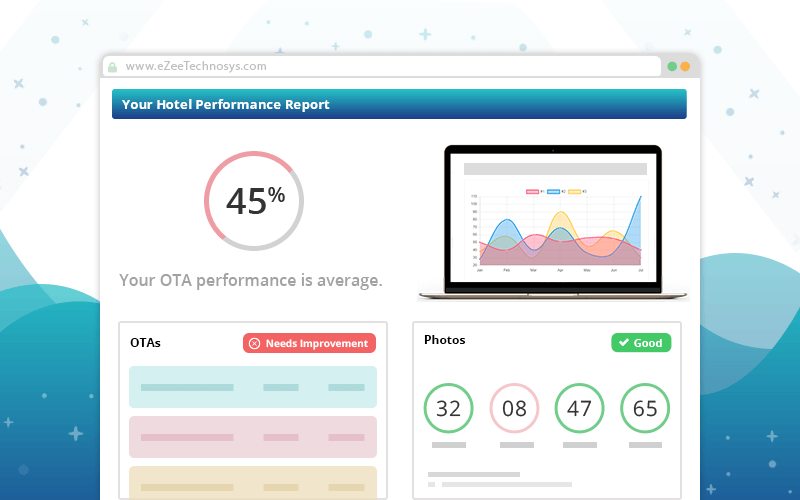 What was the idea?
At eZee, we have monthly meetings where we discuss customer problems and bring new ideas on the table to solve them. Now, we were already assisting some of our customers by solving their various business performance issues, which was helping them increase their revenue as well.

In one of these meetings a few months ago, we were talking on one such topic when Aeijaz, the CEO of eZee came up with an idea. He shared that rather than performing this activity just for our customers, why not take this ahead proactively with a twist and reach out to all hotels. The twist was to show them their problem areas and shortcomings in online performance with the possible solutions, so that they can work on increasing their revenue.

And that was our "Eureka Moment".
It was something we had never attempted previously. We were not sure about the amount of effort it might need, but we were ready to work on it. Having been in the industry for over a decade, and working with small to mid-sized hotels for most of the part; we were aware of the fact that:
More than 60% of small to mid-sized hotels have a limited focus on their online presence.
This included their performance and listing on OTAs, online reviews and several other factors. We knew that this affected the number of bookings they received, and lead to a considerable loss in their revenue. Such small and mid-sized hotels hardly kept aside a budget for marketing. Most of their hopes relied on online distribution.
Now: Our aim was to spread awareness about their shortcomings in their online distribution and performance, help them rectify those, which they might be neglecting.
Surveying the hoteliers
So we had the facts at hand. And we knew what the goal was. The only and the major step that remained was: THE STRATEGY.
Ideas are easy. It's the execution of ideas that really separates the sheep from the goats.


– Sue Grafton
We took a survey of our customers – hoteliers who were actually at the core of the industry; and who would be the ultimate beneficiaries of our project. The survey included questions like:
Which pain points frequently bother you?
How many OTAs is your hotel listed on?
Are you getting enough bookings from the OTAs?
Are your listings on OTAs properly managed? Do they have proper information?
Are you present on metasearch engines?
Do you have a Google Business Listing?
Which strategies are you applying to increase your bookings?
Do you have a hotel website? If yes, how is it performing? Is it mobile-optimized?
Can your guests book with you from your website?
Have you enrolled for Google Hotel Ads?
We surprisingly received a great number of responses in the survey. We received approximately 70% response ratio from our customers.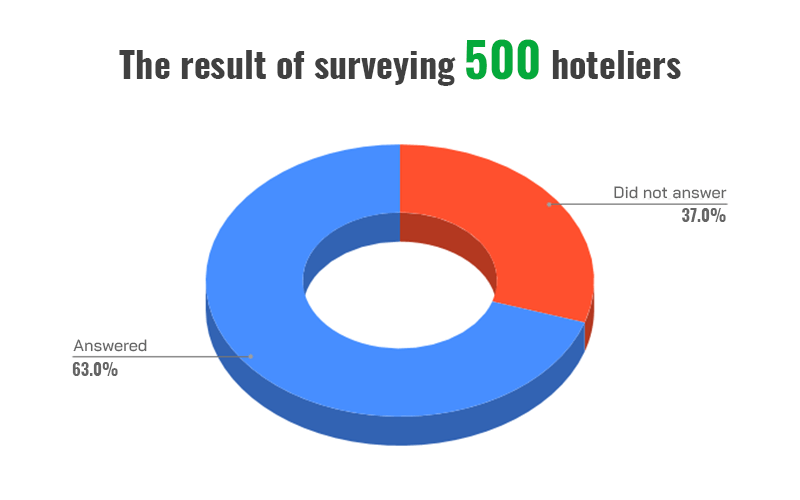 The hoteliers were pretty excited to share their pain points, especially after knowing the agenda behind the survey.
And slowly, this idea of a hotel performance report started shaping up. A report which can include problems or issues in a hotel's online performance along with suggestions on how they can improve it.

We also got in touch with our partners, OTA market managers, industry veterans; and brainstormed on the parameters this report should contain.

What did the Hotel Performance Report contain?
Finally, after the customer surveys and talking with many of the industry experts, we had a list of around 40 such parameters ready, which had an impact on a hotel's business performance. The parameters fell into the following categories:

OTA listing performance and rankings
Proper hotel website
Direct bookings
Online reputation management
Metasearch engine connectivity
Various marketing channels
Now we had the parameters in hand. We knew what we wanted to do. So, the next task was to create the first hotel performance report. The next task was to create one.
Making and sending out the first report
We started researching by how do performance reports look. How to make it effective, and how to convey our messages properly. Step by step, we prepared a prototype.
Successful ventures in business or philanthropy are built around great teams who can help us overcome tremendous challenges – and have the right experiences and relationships to do so.

– Naveen Jain
We picked a property to prepare this report for and started collecting the required data for the report. Once we added the details in the prototype, we got an idea of how the report would look like. First of the many iterations started.

Our previous survey helped us here to finalize the sequencing of the parameters in the report. The design, the look and feel, the flow and everything was tried, tested and finalized after frequent iterations to ensure that the report portrayed the intended information in the right manner.
At last, we were ready with the FIRST hotel performance report.
Freezing the report format
After sending out a few reports to select hotels, we rolled it out for some partners in the USA, and then touch-based some properties in India through our Business Development Managers.
Since we were the first ones in the industry to attempt such kind of reports, we were not sure how it might be received. Gradually, we got reviews from the hotels and our partners. Some hotels solved their problems on their own, while some came to us asking for assistance.

Hoteliers were able to act on the suggestions we provided, which was a great start for us. The feedback from them and our partners helped us in doing a few more value additions to the performance report.

In all, it totalled out to be 45 checks of hotel performance parameters which the final version of the report included.

Rolling out the Hotel Performance Report to the world
So uptil now, the hotel performance report we gave had just reached a small part of the world. Seeing the impact it had, we were ready to launch it to the entire industry.

We discussed on the plan. How do we want to spread the news? We knew that the report was already doing wonders on its own, such that the hoteliers were sharing about it in their networks by themselves.

The discussion also brought the topic of the report charges. Uptil now, we had provided it for free-of-cost considering its need for the hotels and the transformation it brought upon their business.
So, eventually, we decided to continue providing the report free-of-cost, mainly because we wanted to spread awareness to hotels about the fundamental problems in their online performance and help them overcome those challenges step by step.


We spread the news to some of our partners, put it up on our websites. We came to know that many hotels who had received the report had shared about this free hotel analysis on several hotel association groups on WhatsApp. The count of the report requests started increasing exponentially everyday.

Within 2 months of rolling it out to the world, we were getting 2-3 report requests everyday. Today, we get around 10 requests everyday for hotel performance reports.

You'll come across countless of "consultants" who will give you strategies to implement. But very few will tell you about your exact weaknesses and strengths which you need to work on to improve your business and make it more profitable.

This unique aspect made our offering a hot favorite among hotels in a short time. That was when we realized that we have successfully outdone ourselves through this campaign.

Struggling with the numerous requests
Gradually, as the word for free hotel audit report spread, we received more requests from the hotels across the world who wanted to know how their business is performing.

It was definitely a struggle for us to keep up with the number of report requests that were pouring in. There were times when we were not able to meet the deadlines to deliver the reports because of the huge influx.

Initially, these reports were created manually. But as the demand increased, we sat and contemplated on what can be done to meet them. Should we hire more resources?
Innumerable thoughts came and flew by. And then, our development team came to our rescue, and helped us by developing a utility using which we can automate the report generation. Although, we ensured that the performance improvement suggestions in the report were added manually as it differed for each business.
How did the Hotel Performance Report benefit the industry?
We have certainly come a long way with this idea and planning this campaign. Most importantly, we had not expected it to bring in the huge amount of acceptance in the industry. The hotel performance report benefited three partakers.
Benefits to the hotels
They became aware of their shortcomings in the strategies they applied.
They were able to rectify those shortcomings and improve their performance.
They were able to implement new ideas and strategies to grow their business.
Hotel businesses were able to increase their revenue because of the report.
Benefits to eZee
We were able to assist thousands of hoteliers solve their problems in business
We made our target audience across the globe aware about our offerings
We reached all kinds of hotel businesses; inexperienced and skilled, and gave them fresh ideas to incorporate in their hotel management practices.
The number of daily leads increased.
Benefits to our partners
We generated more leads, and thereby more business for our partners as well.
Our partners got established as stronger organizations in their regions.
Our further plans with the Hotel Performance Report
We sent out the first hotel performance report in September 2018, that is around 9 months ago. In the past 9 months, we have made and sent approximately 3000+ reports.

That means, we have been able to help 3000+ hotel businesses improve their performance and increase their revenue.

Of course, there is no stopping anywhere. We are constantly trying to enhance the report and see how we can make it more valuable for the industry. We also want to reach more number of hospitality businesses every day and assist them in overcoming their challenges. And that would be our aim in the next phase of this project.


---
Conclusion
Most companies these days depend on their marketing team to create something big shot. But we relied on solving problems of the industry by giving something beneficial, which the users couldn't stop spreading.

In this campaign, the cost of reaching our target customers was almost none, except the man hours involved in creating the reports.

We believe that this is how small bootstrapped companies can beat funded companies, if they are able to solve problems of their customer base.

We want you to share this case study with the entire world (or as much as you can) and help us reach out to the maximum number of hotels so that they can defeat their weaknesses and embrace awareness of their hotel performance.


More post