7 Hotel Digital Marketing Strategies to get more bookings in 2019
December 24, 2018 Viken Patel
Today, hotel digital marketing is being utilized at a rampant pace in the hospitality industry. While eventually, it is true that the efforts are actually profitable but the question here is, how much amount of money and hassle should really be put in and how exactly?
To begin with, you should go back to the basics and actually think what exactly gets you the business? The answer is simple – Bookings!!
Now with the advent of technology, most of the bookings are gained through a smart online inventory distribution strategy. Online distribution of hotel rooms can be managed in two ways – either directly from your hotel website or through third-party distribution channels.
Being said that, it clearly shows that technology has majorly dominated the way hoteliers like you receive bookings. Which is why your approach to promote your hotel business should also change.
Here, what is even more interesting is the fact that there are different sets of hotel digital marketing strategies that one can follow whilst dealing with OTAs and even getting direct bookings.
Along with that, as the new year dawns upon us, it brings with it an exhaustive range of ideas, strategies, and goals to get more bookings, impart exceptional services and ultimately obtain a considerable hike in revenue. Applying a proper set of hotel digital marketing ideas, in that case, is the best choice you must make.
Now, what exactly is 'Hotel Digital Marketing'?
Hotel digital marketing, also known as hospitality marketing is being adopted in many forms which include making your hotel's presence noticeable on social media platforms like Facebook, Twitter, Instagram etc. Moreover, having a hotel website and solidifying your presence on OTAs is widely considered.
In that case, finding the right technology partner that is better known for securing direct online reservations and distribution management can help you drive down the cost of inventory distribution for your hotel. Moreover, you need to find out ways to reach your guests using mediums like content, emails, websites, paid marketing, social media, and other such hotel promotion ideas in the correct fashion.
Evidently, you got to accept the fact that hotel digital marketing sooner or later gets you more bookings, better visibility and of course a stable brand name in the market.

And since you must've already started prepping up for 2019, here I've listed 7 ways hotel digital marketing will help you get more bookings in the new year.
7 Hotel Digital Marketing Strategies to get more bookings in 2019

1. Be reachable online
First things first, you need to be reachable, or rather searchable online to start with any hotel digital marketing strategy. Because, if you're not even visible online; then regardless of how much you slog, it's not going to work.

Now, how to be reachable online, you may ask?

Simple. Get your hotel website designed. Perform SEO.

And when I say a hotel website, I don't just mean put up some poor pictures, add 2 lines of content about your hotel, and be done with it.

NO. I mean a hotel website which showcases your amenities, your hotel location, your rooms, and everything else that your hotel is.

Just like how we designed the hotel website for one of our users: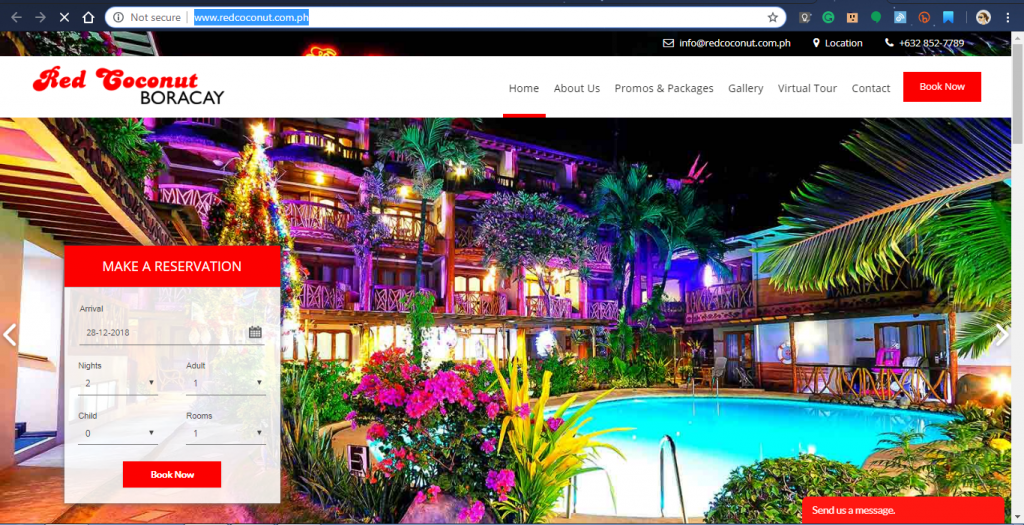 Performing a good SEO will make you rank on the search engines, thus giving you the visibility your hotel needs.

Integrating your hotel website with a booking engine like eZee Reservation will also let you take bookings directly from your hotel website, without any third-party interference.

2. Advertise on Metasearch Engines
Next, we talk about Metasearch Engines viz. Google Hotel Ads, TripAdvisor and, Trivago. Believe it or not, but listing on these metasearch engines will not only boost your visibility, but also improve your brand value.

Though, being available on metasearch would need you to be open to receive direct bookings. The more direct bookings you get, the more you'll be pushed up in the industry.
Especially when I talk about Google Hotel Ads. It's gradually proving to be Google's savior in disguise for hotels struggling to reduce dependency on the OTAs. To dig deeper into this, you can check our blog post on how Google Hotel Ads help increase hotel revenue.
So if you're not yet listed on any metasearch engines, now's a right time to do that.

3. Go live on Social Media
Presence on social media platforms like Facebook and Instagram is not a new thing these days. But making the most of that and utilizing it to their best potential is what you need in your hotel digital marketing strategy.

Going live on these platforms is one effective approach to increase engagement of your followers. And higher your engagement, the more people you'll be able to reach to. Fa

While Facebook has its own charm for hotel businesses, Instagram is a whole another story, wherein there's a long list of hotel Instagram ideas which you can apply in your marketing strategy.

4. Don't forget videos
Gone are the days of having one reality. These days the world works on dual-reality -the actual reality and virtual reality. Which is why this strategy is one of the most favored hotel digital marketing strategies.

To start with, you should adopt new ways of showcasing your hotel and in that case, videos can be of best help.

You should really consider getting your hotel tour filmed and get it uploaded on your YouTube channel. You can even highlight your hotel location, the facilities you provide through short videos. Also, consider filming the frequent events that you hold at your hotel and needless to talk about airing your guests' video testimonials.

All of this digital video content eventually attracts many guests with better stay stories, which will in turn earn you higher revenue.

5. Run Ads everywhere
Instant exposure always has its benefits, but it also has its fair share of drawbacks unless your adverts are properly managed and optimized.

Run dedicated ad campaigns on Google and Facebook (Instagram comes with it). There are many benefits of engaging into such campaigns. Moreover, they make sure that your hotel is visible and the information about your commendable services reaches to the right people.

Just by the way, Facebook Ads are the cheapest way to attract more guests. So, you can easily get more bookings through the platform by staying within your budget.

In the same lines, even Remarketing Ads give you amazing opportunities to bring your hotel business in the light by targeting those people who've already visited your website. Hence, there are higher chances that they'll visit your website to book with you.

6. Practice the trend: Chatbots
Chatbots are becoming increasingly popular in the hospitality industry lately. Not only can they help with conversions, but they can also improve your brand's reputation and therefore increase trust and engagement with your would-be guests.
Chatbots improve communication, direct people down the path to booking, ensure your 24×7 availability and reconnect with visitors who have abandoned their bookings.
Try implementing chatbots on your website and see how your bookings increase with a considerable hike in guest satisfaction.
7. Maintain your online reputation
Overriding any belief you might have in your mind for your hotel's online reputation; you need to accept the fact that the hotel industry was, is and will be revolving around guest satisfaction.
Negative feedback is just as valuable as positive feedback.

Jack Canfield
And why not. You NEED to know what your guests are saying about you. How else will you improve your services?
Besides, these online reviews are the key elements these days. All your guests, current and future ones at that are going to check those reviews and ratings to decide on their stay with you.

That's why maintaining your online reputation is an important aspect of your hotel digital marketing. Keep a close track on your ratings and key review sites and determine your goal firmly where you want to be!

Set an objective of what you want your guests to say about your hotel once they leave. Hence, a well maintained online hotel reputation will help you go a long way by getting you more bookings.

In conclusion:
Marketing, particularly hotel digital marketing plays a vital role in revenue generation for hotels. There are bigger and better players becoming contenders and correspondingly guests are demanding more and more personalization.

Today, guests want friendly websites to work with. They're becoming exceedingly tech savvy and are not willing to compromise on the quality of offerings from hoteliers both in terms of services and ease of accessibility.

With the help of hotel digital marketing, it is necessary to ensure that all channels are utilized to gain the maximum advantage and that no opportunities for revenue generation are left unrealized.
To sum things up, make 2019 your year with more bookings, streamlined operations, positive reviews and the best business year for you. Try these ways for your hotel digital marketing to get more bookings in this year and take a step further in the industry above your competition.

More post