How to Effectively Design Hotel Booking Confirmation Email? [FREE Templates Inside]
August 20, 2019 Kishan Kanani
In our industry or rather, even in our day-to-day lives, confirmation emails are very common. It's only valid to want a confirmation of the services and products you've paid for. And eventually, that becomes a part of your guest experience. So, sending a hotel booking confirmation email to your guests should be the first thing in your list.
In our industry, booking confirmation emails are also known as hotel reservation vouchers. Just as the name suggests, these emails or vouchers are the receipts given to the guests as an acknowledgment for the services they paid for.
Do not mix up this voucher as other vouchers. Other vouchers have coupon codes or the details of the offers. They aren't the acknowledgement receipts.

Most of you must be familiar with the term – hotel reservation voucher or booking confirmation email.

In case, you aren't let me tell you,

What is a hotel booking confirmation email?
Hotel booking confirmation (reservation) voucher is an acknowledgment given by the hotel to the guest for the reservation they have made. It comprises of all the details of the reservation.

As a general practice, almost all the hotels send the reservation voucher to the guests. However, some hotels don't consider it important to do so, and this aspect of a good guest experience goes neglected big time.
While those who send such booking confirmation emails don't include all the required parameters in it, which can affect the guest experience. (You know what they say, when you do it, DO IT RIGHT!)

For them, let me explain you,

Why is sending a hotel reservation voucher important?
The reasons are simple and straightforward.
Because your guests expect it!
You see my friend; when you order something online, you look for confirmation from the service provider as well. Right? Similarly, your guests do.
For reassurance
It is the most basic reason. You give them the assurance that the booking or reservation is made successfully.
It enhances your guest experience
It creates an impression that you care for your guests. Besides, it is the first platform to interact with your guests.
It secretly promotes your extra services
A booking confirmation email is never left unopened. Basically, with this email you get a golden opportunity to promote your hotel's other services.
So, you shouldn't think of these confirmation emails as a teeny-weeny element of your hotel management. They are every bit important as everything else you do to enhance your hotel guest experience.
AND, if you're not sending these, then start doing it from today!

NOW, you'll say, 'Alright, but…

What to include in your hotel booking confirmation email?
Well, it's not rocket science, to be honest! There are a few things that you have to consider while developing your reservation voucher.

First things first, begin with gratitude. Thank them for selecting your hotel. Secondly, address them with their name.

Now let's head towards the important sections!

Remember, the core purpose is an assurance of the details. So make sure you add all required details in your hotel booking confirmation email format.
1. Mandatory information:
Make sure that nothing gets left out. Following are the details that you SHOULD include in every booking voucher:

Reservation number
Booking date
Guest's name
PAX details
Number of rooms
Room type
Confirmation email text
Check-in and check-out date
Number of nights
A well-explained bill: Clearly specify the deposit amount and the remaining amount. (Do not forget to add the details of taxes and other extra charges.)
Cancellation policy
Terms and conditions
Hotel's contact details
Mention their special preferences (if there are any!)
Directions to reach your hotel
Images of your property
Your hotel's social media handles
Adding all these important information will help your guests to find all their required information in one place.

But before we go ahead with anything else, let me tell you how adding more details will leave an excellent impression on your guests. (Above all, assist you to drive additional revenue from upselling extra services.)

Well, I travel a lot. And when I book my stays, I receive such booking confirmation emails from different hotels. So you see, I can easily guide you on which information is more preferable to add in these emails.

Please note that, the details that I'm mentioning now onward are not mandatory but I'd highly recommend to add them. I'm suggesting you to add these details from my experience and the little knowledge I have of the industry. However, you can include them as per your convenience.

2. Inform them about ongoing deals, offers and promotions

You might be running different promotions every now and then at your property. So, you can include the promo codes of these promotions in your reservation vouchers.

You can highlight them in the header (banner).
Here are some examples of offers that you can give:

50% off on the spa services. (Valid till 30 September)

Use code: SPA50

Summer offer: 35% off on pickup and drop-off facility (Valid till 1st November)

Use code: PD35
If you have any discount offer on any extra services and amenities, then mention them as well.

3. Mention your extra services

You must be offering many extra services like banquet, meeting spaces, spa, and gym. Then add them in your confirmation email and let your guests know about what else you're offering apart from accommodation.

If you are providing any additional services like pickup and drop-off facilities or car rental services, then add those too.

Consider the following scenario,
Let's say you've received a group booking from a family of 5. Now as you know, figuring out the transportation is one of the major hassles of traveling.

In this case, if they get your booking voucher with the mention of pickup and drop-off facilities, imagine how convenient it would be to them! They would immediately opt for your pickup facilities.

This way, you can upsell and deliver a better guest experience.

4. Give a link of the guest self-service portal
These days, many hotels have a guest self-service portal. It is a temporary portal that is provided to the guests. With this portal, guests can,

Build their profile and set up their preferences
Perform self-check-in
Modify their reservation. (Of course, up to a certain time limit)
Request for any extra services
Check their estimated bill anytime on their mobile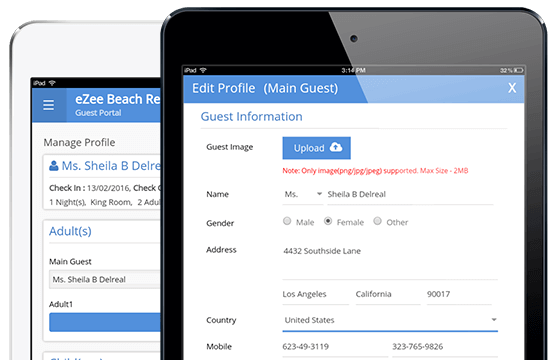 Basically, with this portal, you are giving them complete control over managing their stay.

This was all about guests. Now, how does it benefit you?

You can upsell your other recreational services such as spas or pickup and dropoff in the self-service portal.
You can keep track of all requests made by guests and respond to them directly from the hotel software.
NOTE: If you don't have such a portal, you can explore our online hotel software – eZee Absolute that comes along with a guest self-service portal.

5. Mention about your in-house restaurant/cafe/bar
If you have your in-house restaurant, cafe, bar or resto-bar, then add their details in the confirmation email or voucher.

I have an awesome idea to drive revenue for F&B business through the reservation voucher.

Nothing grabs the attention of humans than the word 'FREE'. Ask them to follow your hotel's social media account, tag your hotel, mention three friends, and give something for free in return.
It can go something like this:
Get our famous hazelnut coffee with traditional red-velvet cookie FREE by showing us some love.
Follow us at (your social media platform link)
Tag us in your story
That's it.
In this way, they will definitely visit your bar, cafe, or restaurant. And there are chances they might visit again!

6. Ask for any special preferences

As I have said previously, personalization is the key. Every individual has their own preferences. Obviously, a hotel cannot fulfill all of them. But, you can consider asking their preferences and at least TRY to fulfill them as much as you can.

For example,
Any special aroma
Preferences in food and drinks
Any special toiletries
Newspaper
International calling facilities for the business traveler
By asking the special preferences, you can provide each guest with an unforgettable and personalized guest experience. It will bring them back again and again.

You may like to read: 11 best ways to enhance hotel guest experience
To cut it short, asking for guest preferences will make them feel like you care, and have them prefer your brand for their next stay and even recommend you to their friends and relatives.
7. Ask for a local guide
Out of different types of guests you get, most are tourists. If you have a local guide, you can add about it in the email.

Or, you can also provide them with destination guides for the city tour. Many hotels write about the city tour or the local places to visit in their blogs. If you have such content, provide a link of that in the email.
8. Inform them about upcoming events

If there are any upcoming events like the musical concert, some festival or any flea near your hotel, then you can inform them about it as well in your hotel confirmation voucher.

You can even tie up with the events as a "Stay Partner" and offer stay at some discounts to the attendees. This is one effective hotel promotion technique.

---
These are the few things from my end that you can consider to add in your hotel reservation voucher. Now, let's have a look at an ideal hotel reservation voucher sample and design:

Now, let's see whether this sample email includes everything we discussed or not?
| Things to include | Present? |
| --- | --- |
| Personalization (since initial salutation is with guest name) | |
| Thank you and confirmation email text | |
| All the mandatory details (including special preferences) | |
| Detailed bill breakup (with the tax amount) | |
| Option to modify and cancel reservation; and even book another room | |
| Cancellation policy | |
| Information about spa services and hotel's in-house restaurant | |
| Special rates for the additional person | |
| Hotel's contact details are mentioned | |
| Extra amenities like WiFi | |
| Hotel's social media handles | |
So far you've learnt how to design a reservation voucher that will get you more revenue.

Well, the best is yet to come.

If you follow me on LinkedIn, you'd know that I'm always giving tips and tricks on good design. This time, I've worked with the marketing and design experts at eZee to come up with best booking confirmation email for your hotel.

All you have to do is download them, configure your details and you're good to go!

These templates have various hotel confirmation voucher samples. You can begin by selecting the template that you like. Use it for a certain period of time. Then try another template for some time.

Analyze which template is performing well and stick with it. Do tell me in the comments about how they worked for you.

There might be many other things that you can consider. You can combine the parameters of few templates or add a new one too. You can apply your thought process and come up with many ideas.

I'd be looking for your ideas and feedback in the comment section.

More post